Posted by Alessandra | Under
Main Dish
,
Pork
Thursday Jan 28, 2010
Ingredients:
2 T Butter
1 T Brown Sugar
2 diced Green Apples
Lime Juice (splash)
1/2-1 Cup Chicken Broth
1 T Honey
1 T Dijon Mustard
1 T Flour
Salt and Pepper (to taste)
Parsley
6 thin sliced Pork Chops
1/4 c Flour
Oil
Preparation:
Pound pork chops until nice and thin.  Salt and pepper both sides and pat them in the 1/4 cup of flour, just to create a little crust.  Then fry them in a frying pan with a little bit of oil. I spray the pan with olive oil.
Cut apples into square and squeeze a little lime juice in, so they don't get brown. Set aside.
Add butter and brown sugar to another frying pan.  Cook until melted. Add apples and let them cook until soft.  Add broth, honey, mustard, and flour together.  Slowly add it to the frying pan with apples.  Let them cook with until it forms a nice thick sauce.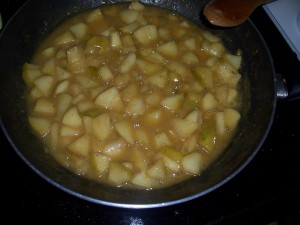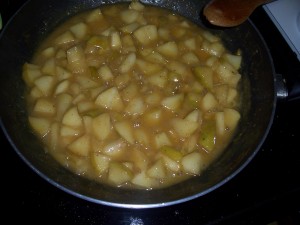 Salt and Pepper to taste and sprinkle a little parsley.
Pour sauce over fried pork chops.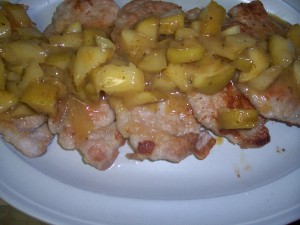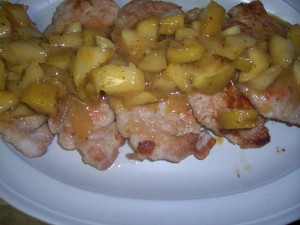 Serving suggestions:  Serve with baked potato wedges and steamed vegetables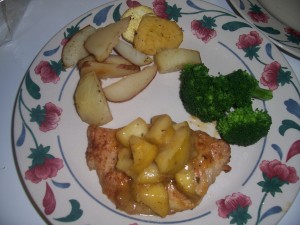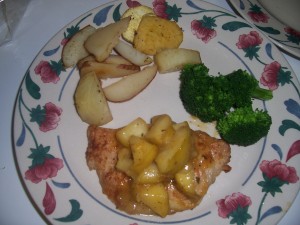 PS:  To make the sauce even more interesting, substitute the 1 cup of chicken broth with a 1/2 cup of chicken broth and 1/2 cup of a citrus mixture.  I used orange, lime and lemon mix.  You can use that or just one of them to make it more fruity.