This weekend, Craftsy is running its Endless Summer Sale and all classes are being offered at $19.99 or less!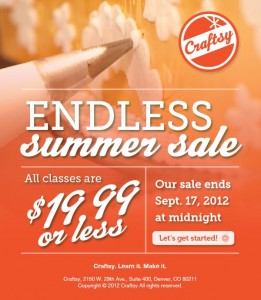 I enjoy craftsy classes. Their program is amazing. They offer classes such as  cake decorating, crocheting, quilting and many other crafts. It is easy to watch when you have a couple minutes to spare. You can pause your class at any time and come back to it later. You can also ask questions to the instructor. Their customer service is amazing.   This is a great sale price for the information you will get.  Some of my favorite classes so far have been the "Decadent Chocolate Cakes with Alice Medrich", and "Modern Piping with Joshua John Russel"  I know you will find some fun classes to take with craftsy.
This sale price ends on Sep 17,2012 at midnight.